KAWAH IJEN - has become one of the main attractions in the area, other popular destinations are Sukamade Turtle Beach and G-Land Surfer's Paradise. They are all together mostly named by The Triangle Diamond of Tourism In Banyuwangi. But still, Kawah Ijen is on the top of them.
A massive advertisement by government recently made a big impact of its popularity, more and more tourists go to this place. Annual bicycle race " Tour de Banyuwangi Ijen", made a good improvement on the road to Kawah Ijen which was well pavement.
THINGS TO SEE AT KAWAH IJEN
Kawah Ijen is one of the most acid and toxic volcano in Indonesia, it has a very big amount of natural sulfur source which come out everyday. This sulfur goes to mix with the water lake and made the water there very acid and corrosive. The lake itself was stunning, a large green color is really beautiful.
Natural Blue Flame
The best time to go to Kawah Ijen is midnight to see the magnificent blue flame, yes it will be hard to hike 3 Km up to the mountain at night. The best reward of all your hard work will be totally paid off when you see this blue flame.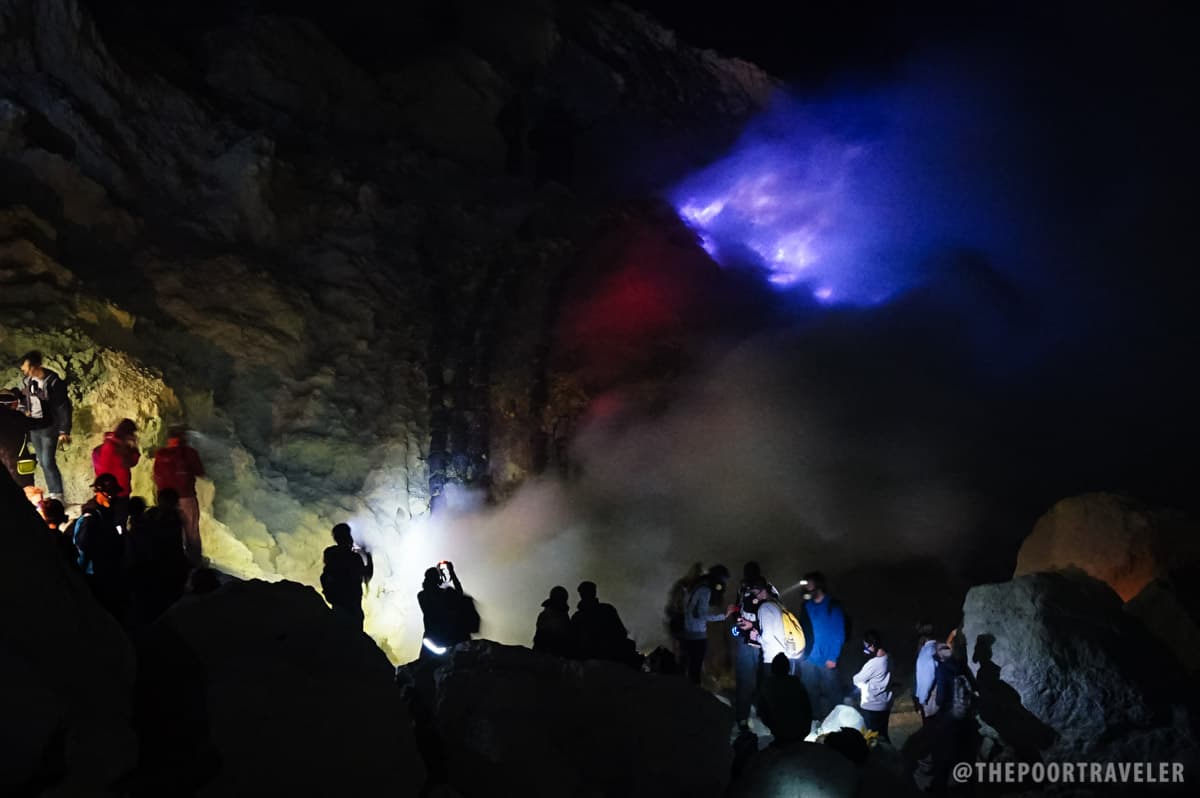 Kawah Ijen Blue Flame (Photo by : @thepoortraveller)
This blue flame is the main source to produce sulfur, the workers there installed very long pipes from the source to extract sulfur steam into molding sulfur and cooled it down to make it harder. Hard sulfur stones are ready to load by basket up to the crater top.
Traditional Sulfur Carrier
Other phenomena that tourists will surprised at Kawah Ijen is traditional sulfur carrier, these men are incredibly strong. They could carry 60 - 100 Kg of sulfur on the bamboo basket up to the mountain to put them at the weighing point at the parking base. They could carry a basket of sulfur twice a day, what a very scary job.
Kawah Ijen Traditional Sulfur Carrier
Sunrise Sightseeing
Do not take a long time to see the blue flame, hike up the crater rim before the sunrise when you had already enough time to enjoy those flames. Walk around the crater rim about 20 minutes, there is an end point to see the sunrise. Most of tourists could not catch up to get to the sunrise view point, they even had no idea about it. If you are going with a tour guide just make sure you ask him to take you to sunrise view point.
Stunning Sunrise Kawah Ijen
There were also some hidden spots to be visited around Kawah Ijen, read 5 Hidden Places To Be Visited Around Kawah Ijen. For more information about how to do Kawah Ijen, do not hesitate to drop us a message on the contact for below. We could organize either sharing or private tour package, Get a special discount by staying in our place.
Also Read :


" DO YOU HAVE A QUESTION ? CONTACT US, FREE CONSULTATION "