On December 26th 2018 - We found big banner on the way to go to Kawah Ijen, right at Jambu rest area about 18 kms away from Paltuding base. Some tourists were get back to change the motorbike to the rental companies where they got the motorbike. Most of bike rental companies only provide automatic scooter, not the manual.
It was protested by the local community about "Not Allowing Tourist Go By Scooter To Kawah Ijen", the local government said that the banner was only to warn the visitors to be more careful to ride scooter to go to Kawah Ijen. This warning was based on the accident often happened which cause death were mostly scooter rider.
Dec 12/2018 - there was a scooter accident which caused 2 local students died, one week before 3 local people also died due to scooter accident at the same spot. Two months ago our guests were hospitalized due to self accident caused by the scooter hand break stop working properly.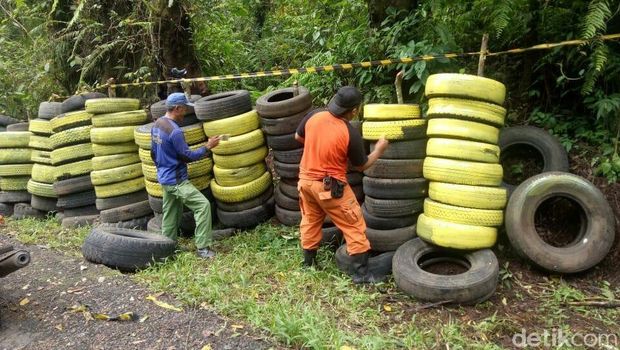 Tires On The Accident Spot
Due to the protest, police took away the banner to prevent confusion for tourists. To prevent more accident local government put some tires around the danger spots where accidents mostly happened.
Conclusion
Ride scooter to Kawah Ijen is not be a recommended option due to high level risk to be involved in accident. The road to Kawah Ijen was well improved so that all vehicles able to go to Kawah Ijen, but make sure you are really good at riding scooter and it has also good performance.
Any further question about how to travel in Banyuwangi mostly to Kawah Ijen, please don't be hesitate to contact us. Kampung Osing Inn team will help you giving the best way to explore Banyuwangi.
Address
Lingkungan Watulo, RT.02 / RW.02, Bakungan, Banyuwangi, 68431
Email
kampungosing@gmail.com (Reply within 1 Hour)
Call / WhatsApp
+62 852 574 270 55 (Call / WhatsApp)